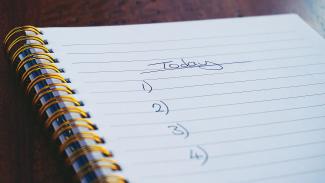 Don't Die…Yet. COVID-19 Estate Planning Considerations.
Estate plans are often not completed as one typically avoids thinking about their death.  This makes an already stressful situation worse and can lead to a 'mini war' among surviving family members.  Regardless of your current situation, having your estate plan in order is important, and it does not have to be overwhelming.  Here is a simple checklist of reminders and items to consider.  By getting your estate plan in order now, both you and your loved ones can sleep better at night.
Review your financial plan

– If you do not have one, we can create one for you.  This is the core piece of any successful estate plan and provides:  organization, simplification, communication, and most importantly, helps you reach your goals.  We complete plans at no additional cost for clients, and each is customized to your unique situation to help provide comfort in knowing that all things you value are aligned with your wishes. 

Customize your estate plan

– Based on your estate, you may or may not need to work with an estate attorney.  If you have an estate attorney, great.  If not, we can help you find one, if needed.  Remember, any estate document created should reflect your personal situation and be reviewed for accuracy to properly carry out your wishes.  We see many upset individuals who pay twice because estate documents were created in haste the first time.  Key documents most often include:

A will, trust, or both

Power of attorney forms (for financial decisions)

Health care power of attorney forms, including HIPAA release forms

Beneficiary designation forms (for accounts and insurance policies)

Document your income and expenses

Income

Document from where, when, and how received (ex. Social Security received on the 15th of the month to my checking)

Include income that continues after death, if any (ex. pension to spouse)

Expenses

For each bill, list websites, passwords, phone numbers, and contact information. 

List each bill as recurring or not and where paid from (ex. electric bill paid each month on 10th via credit card automatically)

Write a letter(s) to loved ones

Share where your financial plan is located and where copies/originals of other vital documents are located

Tell where your list of important contacts is located and include name, address, phone, email of your financial advisor, doctors, CPAs, attorneys, insurance agents, dentists, religious advisers, preferred funeral home, other emergency/trusted contacts, etc.

Explain in detail your wishes:

If incapacitated (include where you keep vital medical records)

Who you desire to raise the kids/grandkids?

Who gets what for items NOT noted in your will or trust?  Some put a piece of masking tape on the bottom of everything they own with the name of who should receive it.

Any final wishes – family vision and values to pass to future generations, funeral requests, etc.
This list is a simple starting point.  Remember, have any documents notarized and/or updated at the company involved (for beneficiary updates).  Although we do not provide 'legal' advice, we do help create and coordinate your unique plan and wishes.   Simply call 715-514-4032 or email connect@decadesfinancial.com to start, as well as gain greater peace of mind.
Michael Brahmer is a CPA, CFP®, Financial Advisor, and co-owner at Decades Financial, LLC.  For over 15 years he has helped meet people where they are in life to help get them where they want to be.  Whether starting your first career, raising your family, nearing retirement, or already retired, he and the Decades team help provide financial solutions for all phases of life.  Visit decadesfinancial.com to learn more.  Michael Brahmer is a Registered Representative offering Securities and Advisory Services through UNITED PLANNERS FINANCIAL SERVICES, Member: FINRA, SIPC.  Decades Financial, LLC and United Planners are independent companies.